kabutopiano

Enjoy the Best Music with Scandinavian Taste Interior
13Dec.2017
We have created a music cafe&bar with Scandinavian taste interior with a client, who used to be a securities analyst, Osuke Itazaki. We have designed the interior,logo mark, and done the shop branding.
You were previously working at a securities company. What made you quit it and start a new business?
I have had an interest in the restaurant business originally though I was working as an analyst at securities company. But as I aged, I've started to feel the fall in my skills. It is also a kind of job that is hard for you to continue until retirement. So, when I started to think about the second life, I thought of running a café. But I thought it was hard to make a profit only by a café, so I've decided to open a café & bar. I also love music, so I've decided to open a music café & bar where I could share a great music with the best quality audios.
What kind of preparation did you do while you were still working as an analyst?
I went to a school to learn about running a café. I have learned the essence of the business management and also had a little bit of practical classes. But it is only after I quit the previous job that I've started detailed preparation.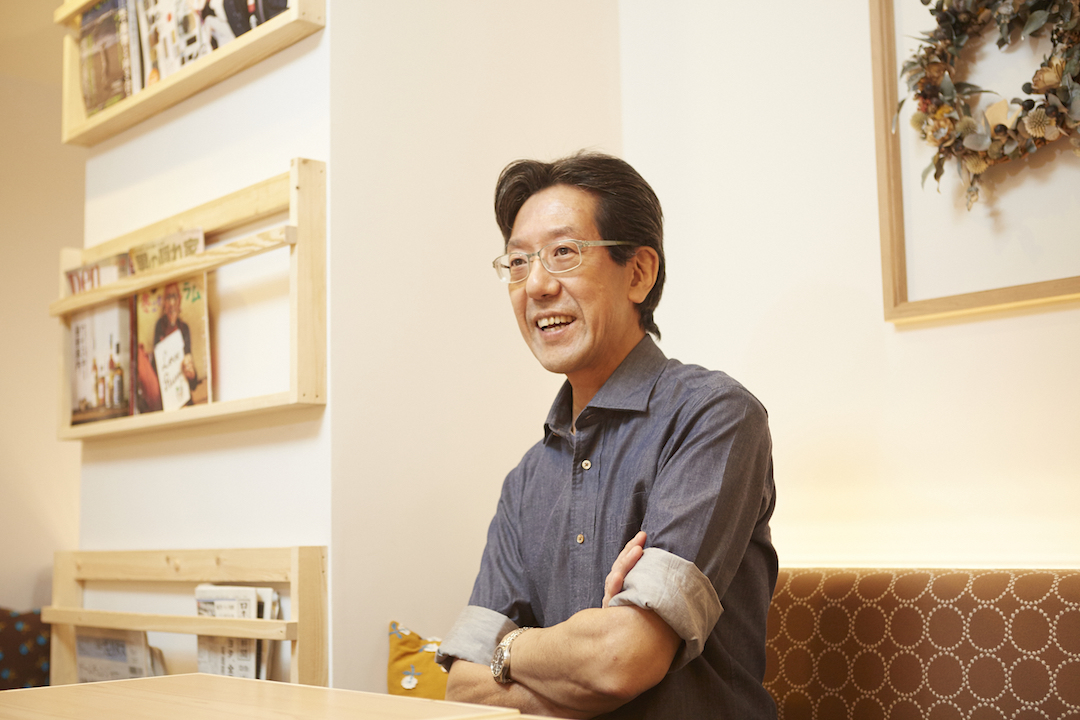 Do you think what you learned at school is helpful now?
In real life, many things happen and they don't happen along the theory. But the know-how is helpful and I would like to make the most of it in the real operation.
How did you look for design and construction companies? How long did you spend on it?
I used a matching website. I've received replies from a lot of companies, and I have chosen three companies from them based their previous works and their replies. I had meetings with them, and decided to offer my project to kusukusu Inc. because I felt the strongest passion from them.
They actually did a great job for me, not only the shop design but also having adjusted the discussion with a real estate company and the neighbor restaurants when needed. I am very satisfied that everything was very smooth from designing to construction.
How was the interior design that we suggested?
I was originally thinking to make a shop with the warm atmosphere of the Scandinavian style, and what kusukusu Inc. suggested after consultation matched what I was imagining very well. I am thankful that they did not give in the details and did everything they could including making original furniture or importing furniture from overseas to create the best space.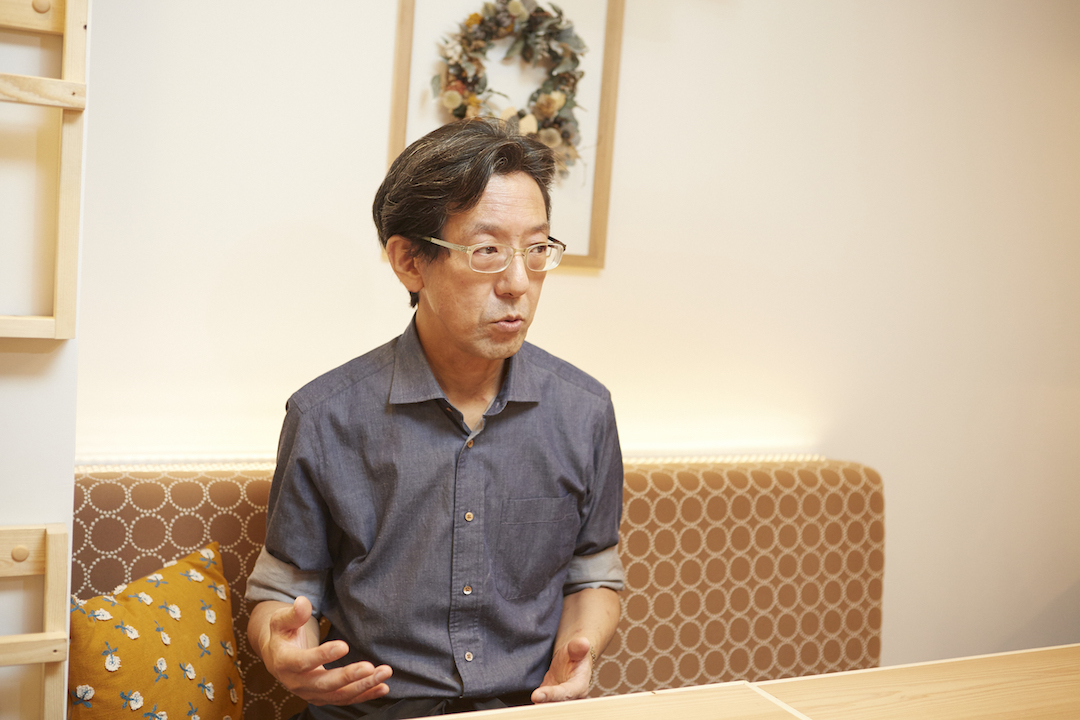 How did you find the property and what did you care about?
My criteria were; near my home, near the center of Tokyo, low rental fee. Considering my criteria, I've decided to focus on the area of Yutenji, Toritsudaigaku, and Gakugeidaigaku. Then I started to go around real estate companies, and the first one I came to see was this property. I liked it but kusukusu Inc. advised me to see others just in case, so I went to see other two properties. In the end, the first one matched my criteria most, so I've decided on this one. It was the fate.
The location is near the station, but it's on the second floor. Do you feel it is an disadvantage?
To be honest, I am actually feeling it's a disadvantage. I've realized many people come here not because they happen to find my shop but because they have the aim of coming here in advance. As measures to be better known, we've decided to put our shop on the gourmet website. I've also found that at night, there is a flow of people coming this area after 10:00 pm, so we have changed out opening time, and started to serve more one plate dishes. I am also considering to hold events in the near future.
Did you have worries and concerns about entering a new field?
Oh yes, there were a lot. I think I could actually start because I could afford to take my time to learn and slowly make a profit. There wasn't much financial pressure, so I could decide to start something new at my age.
What makes you think you made a good decision to start what you wanted to do?
I feel happy when customers visit us regularly. The biggest joy in this job is the connection with many kinds of people who visit here.
What kind of difficulty do you have or is there anything you want to improve?
Kusukusu Inc. told me that I might be going to struggle for the first three months or more, considering the shop location until widely being known. To be honest, the current biggest issue is to raise the sales. I am thinking about what we should do to increase the number of regular customers every day. But I feel my shop is getting to be known more and more by appearing on magazines or web sites thanks to the public relations work by kusukusu Inc.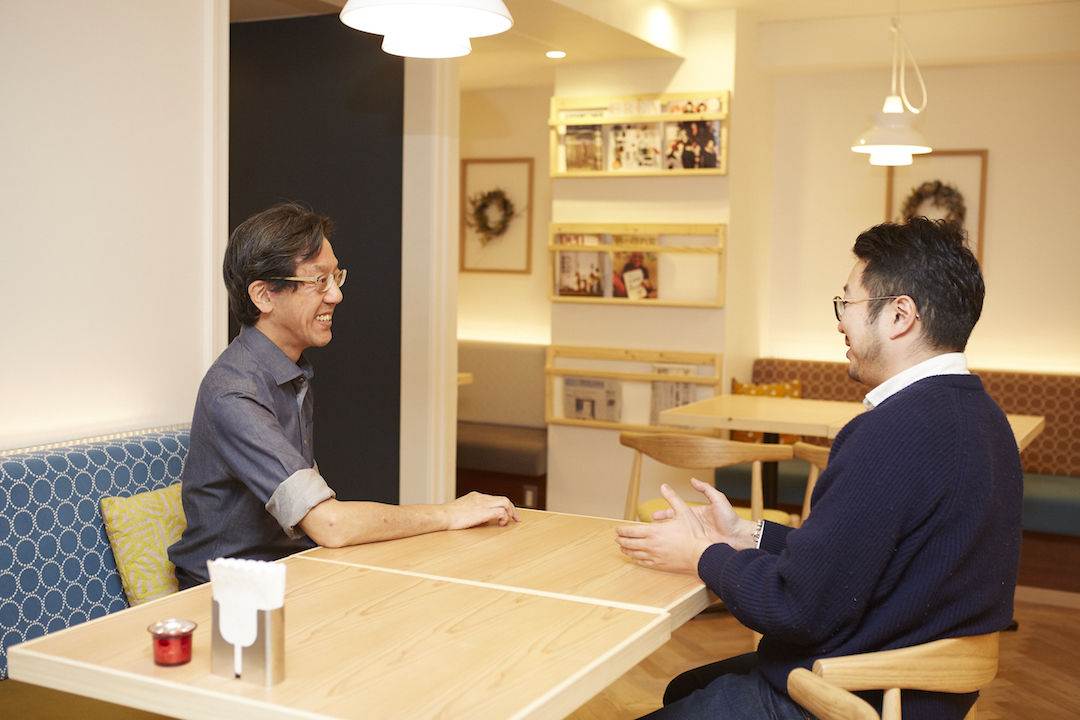 How do you operate?
A bartender, two part-time employees, and myself. A friend of mine introduced the bartender to me, and I hired the part-time employees on a recruiting website.
Do you have any messages for those who want to open their own shop?
I don't think I am doing well enough to give advice, but I think this job is worth doing even though it's tough. You would feel happy and satisfied when things go well. Be determined, enjoy, and go for it!