yoridokoro
A Special Space Created by the Amazing Team Work
13Dec.2017
The interviewee is the owner of the dried fish cafe "yoridokoro" and the Japanese-style villa in Hayama "minato-no-akari", Takeshi Megumi. How did the shops become parts of the community with a strong bond and become one of the most popular spots in the area? kusukusu Inc. has designed the interior and exterior,the logo marks, and done the branding.
It has been three years since you opened the café "yoridokoro". How did you look for design and construction companies in the first place?
Well, I didn't even know I needed to find a design company and a construction company to open my shop at first. I knew nothing then. So, I decided to join a local event held by a real estate company in Kamakura to learn something about opening a shop. I was still employed by a TV wiring company back then. It was this event where I met the CEO, Mr. Suzuki, of kusukusu Inc. I have met many people there like designers or investors but it was only him who sent me a hand written letter to make a fan of his company a few days later. Now I think back, the letter was a part of his branding strategy for his company. Since then, I am a big fan of him and his company, and have learned a lot from him.
How did you look for a property to open "yoridokoro"?
It took me almost a year. During the period of location searching, Mr. Suzuki came along with me to see each property and gave me advice. I really knew nothing at first, so it was very helpful that he supported me with the numbers such as customer turnover or operating rate and more. I have used a website, visited estate agents, or simply walked around and if I find a really nice one, I went to the Regional Legal Affairs Bureau to find out the owner of the properties. Worked one step at a time, and found the best place for me.
Why did you decide on this property?
I originally wanted to run an accommodation. But there was a limitation to open an accommodation at this place according to the law. But I really liked the property, considering it's allowed to renovate, the location which is right next to Enoden, and the low rental fee. As I discussed with kusukusu Inc., we have come to the choice to open a café at this place for now, and then open an accommodation later when I find a suitable place. In the end, we have decided to open an air b&b on the second floor and a café on the first floor, but the café was more successful, so we decided to focus on the café for a while and open an accommodation when the time is right.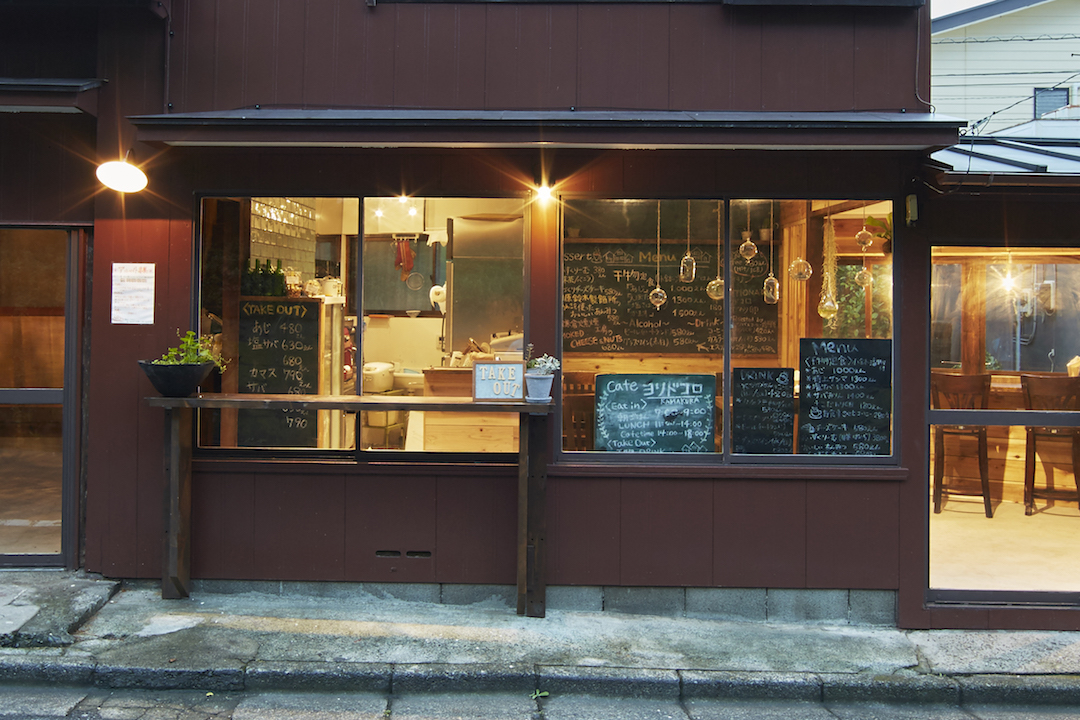 Everybody starts his business with a limited budget. Is there anything you did to minimize your expense at the beginning?
We actually did everything we could do on our own with the support by kusukusu Inc. especially in the construction to save labor costs. But I wanted to secure the safety and the comfort at the shop. So, we have divided things we can do on our own and things we shouldn't do, and ordered the design of the shop to the professionals of kusukusu Inc. They didn't force us their design, and instead, consulted with us very well and decided everything together.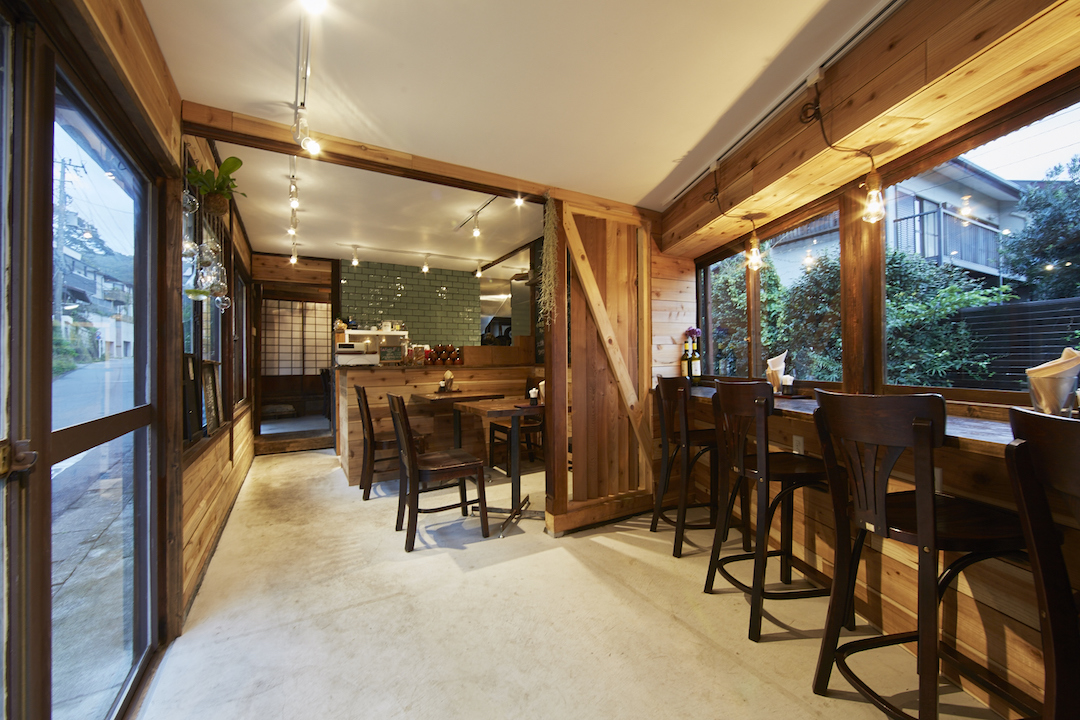 What was good about doing things on your own?
– Firstly, we could save some cost. Secondly, it tightened our bond in the team by doing things together and also gained some supporters outside. When we were working on making the shop, the local people saw it and kids were happy to help us. In this way, we managed to be a part of the community even before opening the shop. I think this is the best thing about actually participating in small parts of the construction and doing what you can do.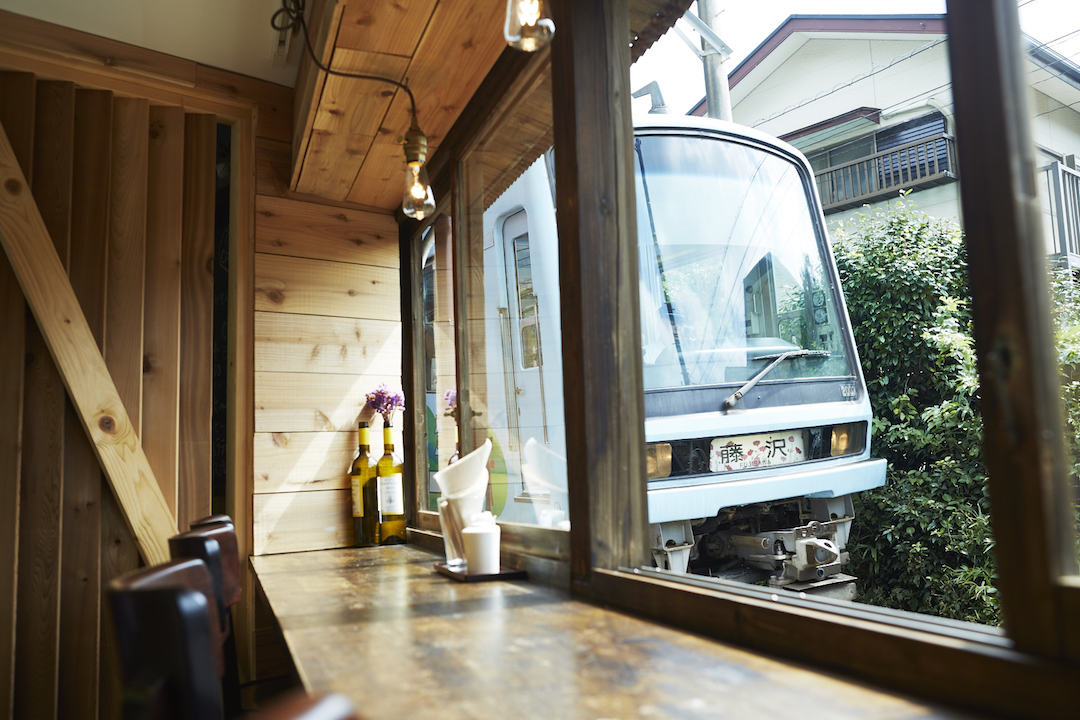 How did you decide to open a dried fish café ("yoridokoro")?
Since I was thinking to open an accommodation, I didn't think about a dried fish café even a little. But my mother is running a small shop to sell dried fish, so I knew a little about fish. Through the branding sessions with kusukusu Inc., we could see our strengths and weaknesses, and also competitors. Eventually, we thought we would be strong if we do a dried fish café at this place.
So you have established the shop concept "Travel the Daily Life in Kamakura" through the branding sessions rather than you already had it in your mind?
Yes, we have analyzed our strengths and marketing strategies, and also made the "persona" of the target customers in the process of branding. By thinking about what we want to serve to the "persona", we could establish the shop concept. I definitely couldn't do all of them alone. I really appreciate the guidance by kusukusu Inc. We have created the very core of the shop, without which I can't imagine what I could have done by now. I have learned a lot from kusukusu Inc., because they not only designed the interior but also thought about managing the shop after the shop is actually made. Branding makes a huge difference after you actually start running a business.
We have set the persona as 26- year-old girl living in Yokohama city. What kind of customers actually visit "yoridokoro"?
A wide range of people visit here, but the main customers are exactly like the persona we imagined. This brings me a confidence that the messages we send are actually received by the right people. We have made choices about design, customer service, how to send information, and all based on the concept and persona.
The location is very unique. It is right next to the lane of the local train, Enoden. Did you have any concerns regarding the location?
I think this location is a strength. Of course, we make sure the safety for our customers, but there weren't any worries about the location. But we have been caring about neighbors a lot, especially because Kamakura is a place where people have a strong sense of "community" and it is hard to survive here if we are not welcomed by the community. I take this characteristic of the location as an advantage, and have been thinking about how to make the best from that.