BONGEN owner
Kou Shiraishi
×
Representative at kusukusu inc.
Ryu Suzuki
The first shop owned by the young owner,Wataru Shiraishi, who has the aim of "supporting hard working people" through his shop. Because the owner has the vision of opening a brunch overseas, we have decided to create an unique Japanese style coffee stand. We, kusukusu Inc., have designed interior and exterior, and done the shop branding.
Let us know what made you decide to open a coffee stand?
I have the aim which is "to support hard workers". I have decided to open a coffee stand to actually do it. When I was a fashion stylist in the previous job, I have seen many people who can't make obvious good results though they are working hard or people who deserve more than they actually receive for their efforts and achievements. That is why I have started to feel like supporting hard workers by serving refreshing and relaxing moment with a daily cup of coffee to customers. I also want to make the environment in my company where employees can pursuit their dreams and aims.
How did you search design and construction companies?
I didn't know how at first, so I have started by registering to a website that matches those who want to open a shop and design+construction companies. I have picked up some companies and actually had meetings with them. I was looking for a passionate and interesting company. I have met with three companies before meeting you, and was actually planning to offer one of the three.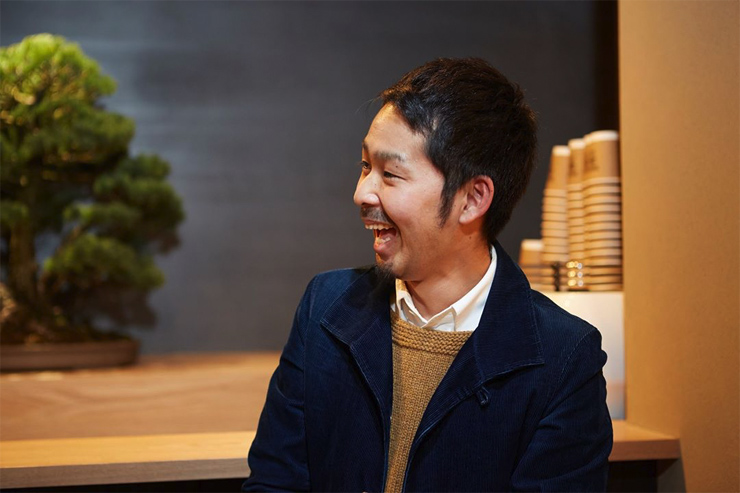 What made you change your mind to offer us your project?
Most of the companies had business-like attitude. We had short conversations and then they said they were going to bring plans. But Mr. Suzuki, CEO of kusukusu Inc. was different. I instinctively felt the connection with him. His comment that attracted me was "we are not done by just designing interior and exterior of your shop". Many companies just talked about designs, so I felt your company would help me beyond design.
In fact, they took my business very seriously and made some suggestions such as serving rice balls, or getting contracts with surrounding companies to gain stable income. I truly appreciated professional advice.
Since when have you had the image of "simple Japanese-style" for the interior?
Because I am Japanese, I have wanted to make "Japanese-style" shop from the beginning. So, even before meeting design+construction companies, I had already bought "bonsai" as a symbol for the shop. Thanks to kusukusu Inc., the space that shows the "bonsai" more beautifully than any other spaces is created. I am very satisfied that we could create the new style of Japanese-style coffee stand.
How did you decide the place to open your coffee stand?
I have focused on Ginza area from the beginning because I wanted to have a shop at the best location of Japan. Since I am considering to open a brunch overseas in the future, I wanted to start from the place that is recognized worldwide.
Could you share the characteristics of this area, Ginza 2 chome?
This place is surrounded by big companies of Japan. If you walk 500m, you will see the buildings with the lights on until late at night. I think this is the best place to match my shop concept "to support hard working people".
At last, is there anything that makes you feel you made a good decision to offer us your project?
The interior design was way better than I expected. It is amazing. We had discussed the layout of the shop, and you made the perspective drawing and I thought it was amazing, but after the shop is actually made, I am thrilled more than I could ever imagined. I am very happy to be here at this shop. I truly hope to work on many more projects with your company when I manage to open some brunches. Thank you!