Mont Blanc Stand owner
Harumine Takei
×
Representative at kusukusu inc.
Ryu Suzuki
"Au Petit Matin" is a dessert shop which is famous for their delicious Mont Blanc cakes (chestnut cream cake). The shop is located at Kanazawa of Yokohama-city in Japan. The owner and pastry chef of the shop, Harumine Takei has just opened his second shop in Kamakura. The second shop is a Mont Blanc and Meringue Chantilly (sweet baked meringue) specialty shop named "Mont Blanc Stand". We, kusukusu Inc., is honored to have taken in charge of interior design, logo design, and shop branding.
We had an interview with Mr. Takei, hoping this article will help those who are trying to start their own stores!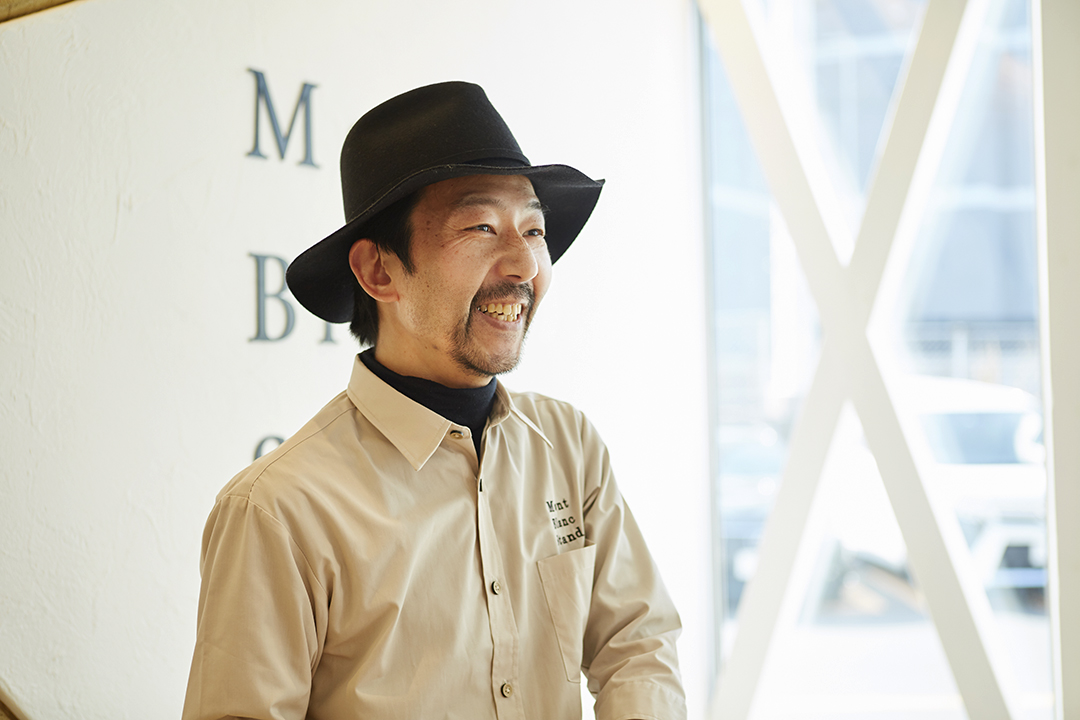 We heard that as many as 500 customers came to the pre-opening sampling party. Congratulations! What do you think is the biggest factor that brought so many people to the pre-opening?
I think it's the brochure. It's a simply designed brochure with little information about the shop. We distributed 6000 copies to the houses around the shop. It was the idea of kusukusu Inc. to make the brochure as simple as possible, so that people who are interested would just access to the web page with detailed info through the QR code on the brochure. I think the brochure was very cool! I'm sure I have never been able to come up with the design. (You can see the brochure below)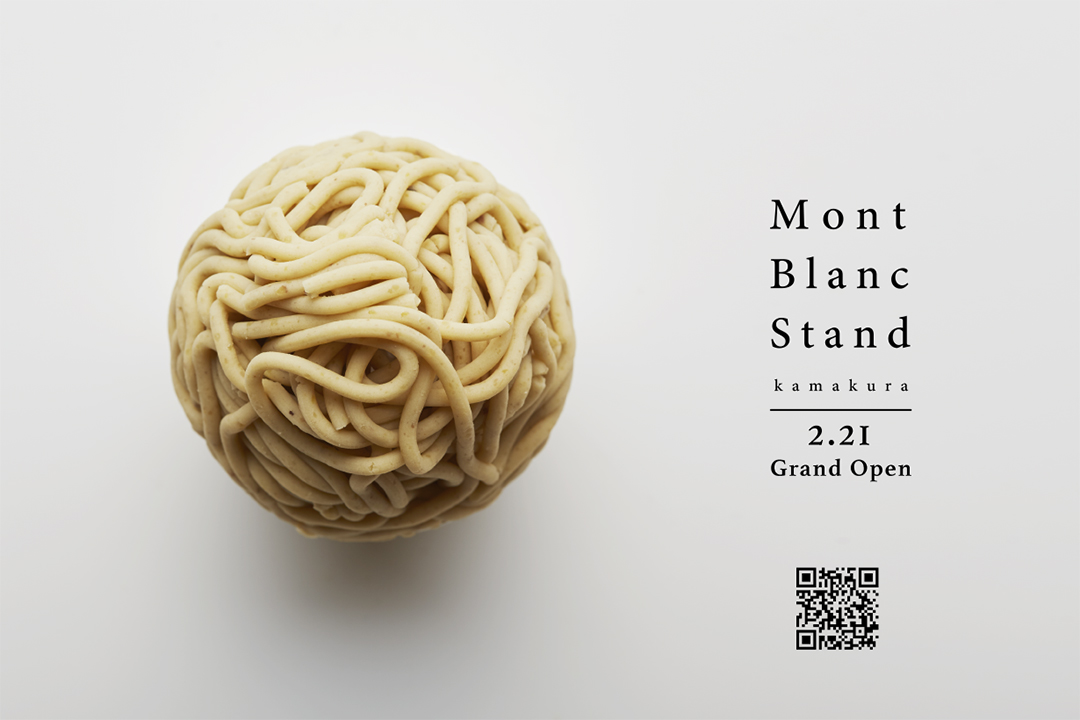 Did you advertise your second shop at your existing shop?
No, not really. I have told about it only to our closer customers, but we did not use POP signboard or anything for advertising. But after we've distributed the brochures, the existing customers started to know about our second shop, I think.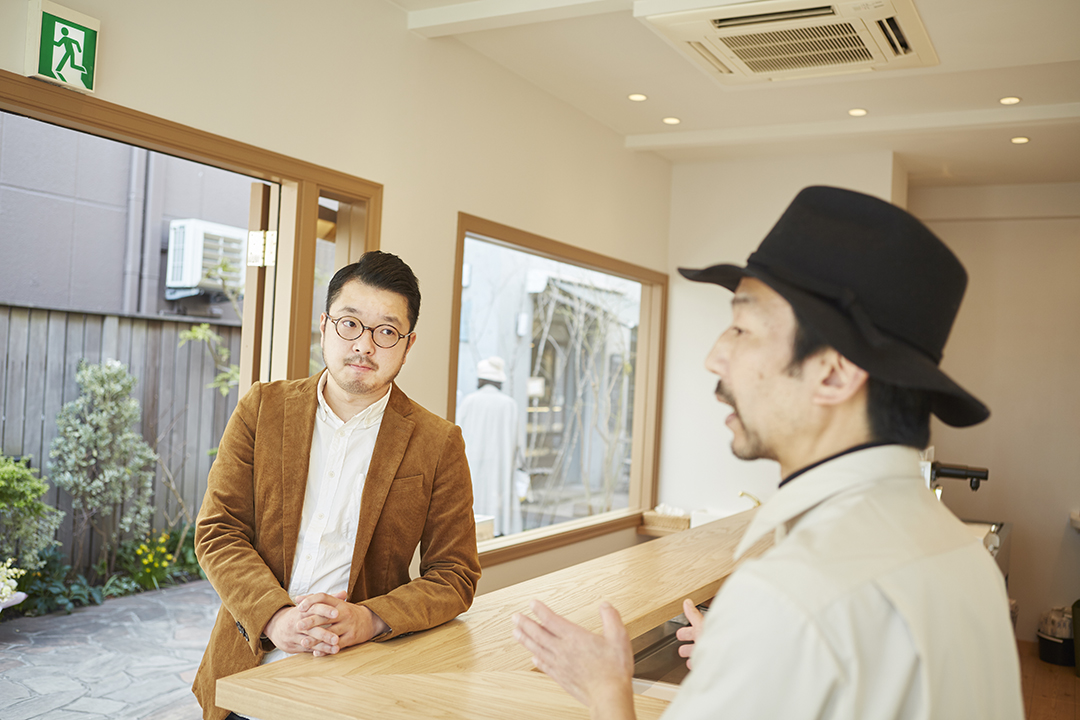 Could you tell us about your career briefly?
At the beginning of my career, I actually wanted to be a chef at a Japanese restaurant. But as I learned Western cuisine at school, I became more and more interested in Western cuisine rather than Japanese one. After the school, I have joined one of the best Western restaurants in Japan, "Chez Inno" at Ginza, Tokyo. I met my amazing mentor there, and began my career as a pastry chef. I have experienced some shops in Japan and Europe after that. Then, I have opened my first dessert shop at Kanazawa in Yokohama-city. It might seem like a linear path, but I was always flying very low. I could have fallen easily if anything had happened. But, I always had rough plans for every 10 years of my life.
How did you decide to open your second shop?
When I opened the first one, I was determined to build a firm foundation of the shop during the first 10 years. If I was going to do something new, that would be in 10 years, I thought. And now, 10 years have passed, and many people visit our shop for the Mont Blanc cakes. So, I have decided to open the second shop which focuses on Mont Blanc cakes.
Why did you choose Kamakura for the location of your second shop?
My first shop is located at a peculiar place. It's in a rather secluded residential area where no outsiders visit. So, it's sometimes difficult to spread new ideas or new type of dessert there. On the other hand, Kamakura is one of the popular sightseeing spots in Japan. I think it's a well-balanced city where both visitors and locals enjoy the city. I've chosen Kamakura as it's a culturally developed and also open to new culture. I thought we could spread new and delicious desserts as well as our Mont Blanc cakes from here.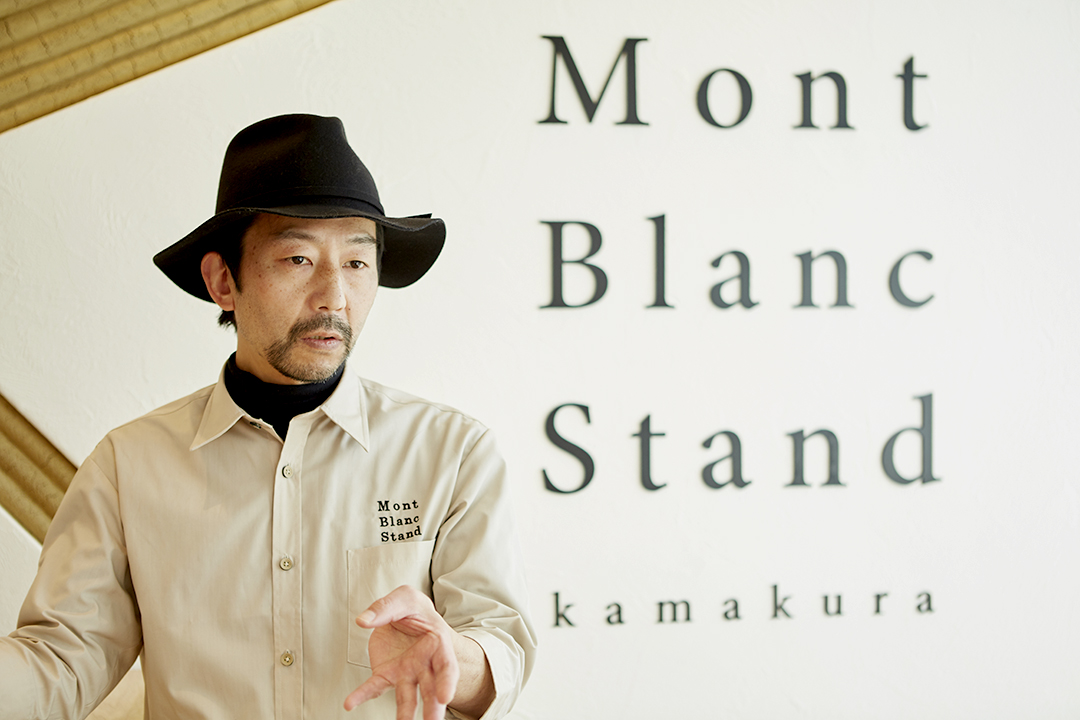 What is the new type of dessert you want people to know?
"Mont Blanc Stand" is a dessert shop of Mont Blanc cakes (chestnut cream cake) and Meringue Chantilly (sweet baked meringue). I think many people know Mont Blanc cakes, but not Meringue Chantilly. It's tiring to chase the trend, but I just want people to know new and delicious desserts made with simple and authentic ingredients. We proudly serve Meringue Chantilly made of high quality meringue.
How did you decide the property for this shop?
I could finally step forward to sign a contract on the property after so many people, including kusukusu Inc., encouraged me to open this shop. Because, you know, it's scary to open a shop that sells only two types of desserts. I was anxious but knew it was a good idea to focus on those two products. I have asked kusukusu Inc. to give me some advice on a few properties, and among all the choices, this one was surrounded by the best environment. I put the highest priority to the surrounding environment because I've learned its importance by my first shop.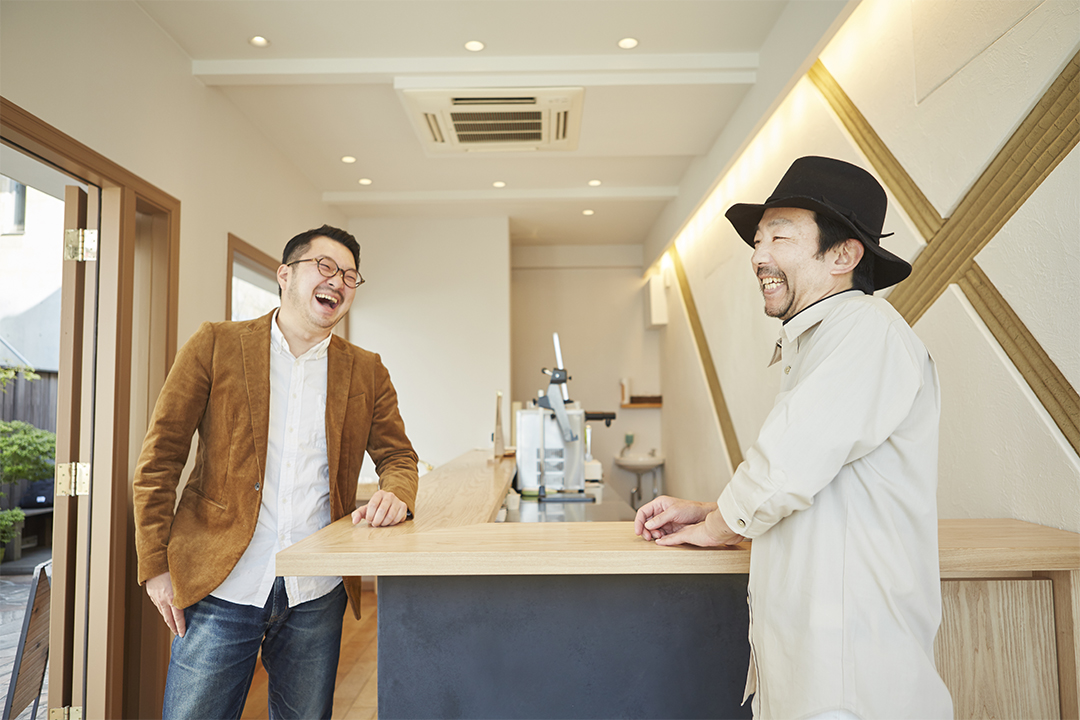 How did you look for a design company?

A friend of mine recommended me the café "Yoridokoro", one of kusukusu Inc.'s previous works, and I went to the café years ago. I didn't know about kusukusu Inc. back then, but the CEO, Mr. Suzuki was at the café for photo shooting at the same time, and I remembered his face. And then, one or two years later, I was looking for a design company for my second shop and found kusukusu Inc. online. When I saw the photo of Mr. Suzuki, I instantly remembered that day at "Yoridokoro".
What made you decide to offer your project to us?

I have looked a few other offices as well, but I actually liked the interior design of café "Yoridokoro", and I also felt from the website that kusukusu Inc. has a wide range of experiences and knowledge, and is flexible with our requests. So, I have decided to contact you.
In fact, every time we told what we wanted, they gave us concrete ideas on the spot, which made them very reliable.
What did you focus on when you were making the second shop?
For the first shop, we did everything on our own without design company, but this time, kusukusu Inc. did everything for us. What I focused on was not pushing my preferences on them too much. I thought it would be better if I just trust them and let them do whatever they want to do instead of asking them to do what I want from my point of view. They are professionals for interior and design, and I'm very happy with their work.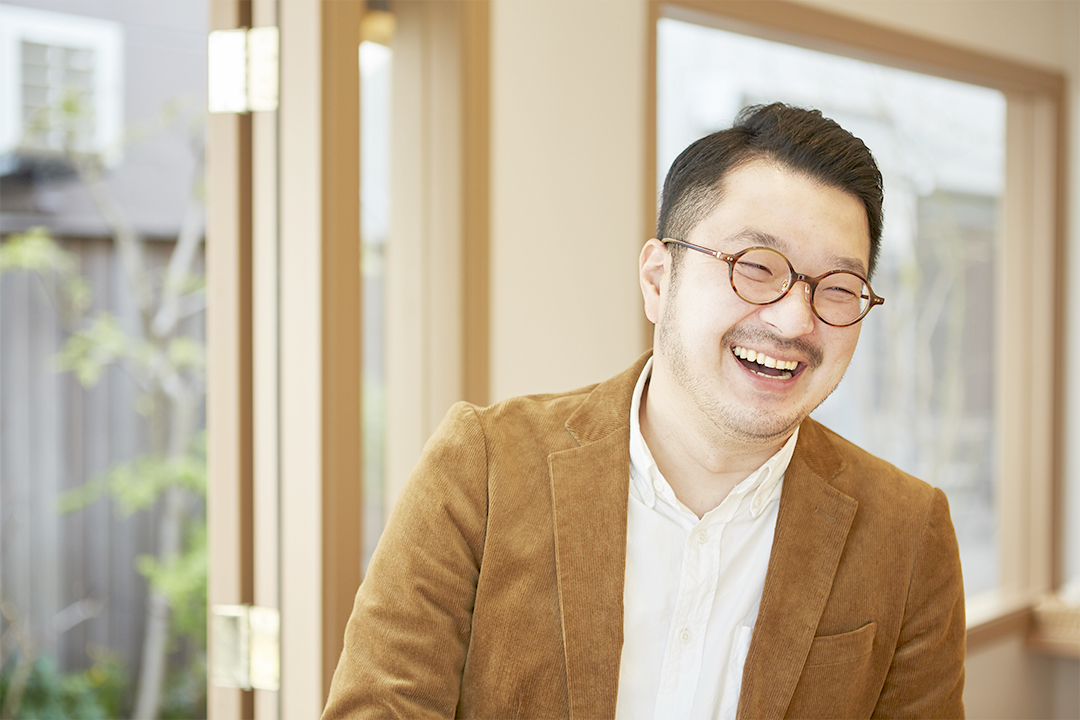 Was there anything you were anxious about in terms of running two shops at the same time?
I'm anxious about getting and keeping employees. I was always worried about it just like every other restaurant and café owners these days, and I think I always will be. We have two staffs for the second shop now, and they got interested in working here by looking at a job opening poster on the window of the shop.
Did you advertise your shop by any means other than the brochures and press releases that we sent for you?
Just the posters on the window? Somebody posted about our shop on a local Facebook page, and I think it brought many people to the pre-opening sampling party. As for brochure, 6000 copies brought 500 people to the shop, and they tried our products. I think the cost efficiency was quite high since the average customer attraction rate of brochure is considered 1%.
Do you have any goals for the near future?
I would like to move forward one step at a time, firmly and steadily. I'd like to spread not only how delicious the desserts can be but also the knowledge about the ingredients and how we should eat to each customer.